Download the Album or Individual Songs
from TAI CHI MAGIC 1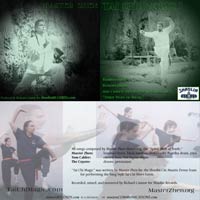 Left graphic = 4-panel CD cover of Tai Chi Magic 1.
The song, "Tai Chi Magic," was composed for the Shaolin Chi Mantis Demo Team in 1993 by Buddha Zhen.
Get the ENTIRE ALBUM below which includes, "In The Pool Of Enlightenment," a 13-minute Zen classic.
All songs composed by Buddha Zhen.
Time

Buy Album

ENTIRE ALBUM:

Tai Chi Magic 1

Download ALL 11 Songs

1:03:30

8.88
for
entire
album!

Download Individual Songs
Below

Time

Song
Samples

Buy
Song

"Tai Chi Magic"

3:49

88¢

"Sparrows In The Daoist Courtyard"

3:12

88¢

"Inner Mountain View"

6:21

88¢

"In The Pool Of Enlightenment"

Included in album purchase ONLY,
Tai Chi Magic 1

13:16

?.??

"Inner Will"

4:02

88¢

"Road To The Mountaintop"

4:02

88¢

"Dao Mountain Monastery"

4:34

88¢

"Silk Mushroom"

5:36

88¢

"Boundless Space"

5:18

88¢

"Pushing Hands"

8:46

88¢

"Night Blue Sky"

88¢